Ronnie Corbett opens One-Stop, Thursday, 14th May 1970

remember this! I was five years old at the time, and I recall my mum being excited about going to see a new supermarket being opened by someone famous. Even better still - she managed to get into the photograph in that night's Coventry Evening Telegraph! My mum is there on the left, dark hair, just below and to the right of the very tall chap in a peaked hat. I got a free toy out of it, too - she came home with a colourful plastic horse and carriage!
Below, I have copied out the photo and text from the original C.E.T. article.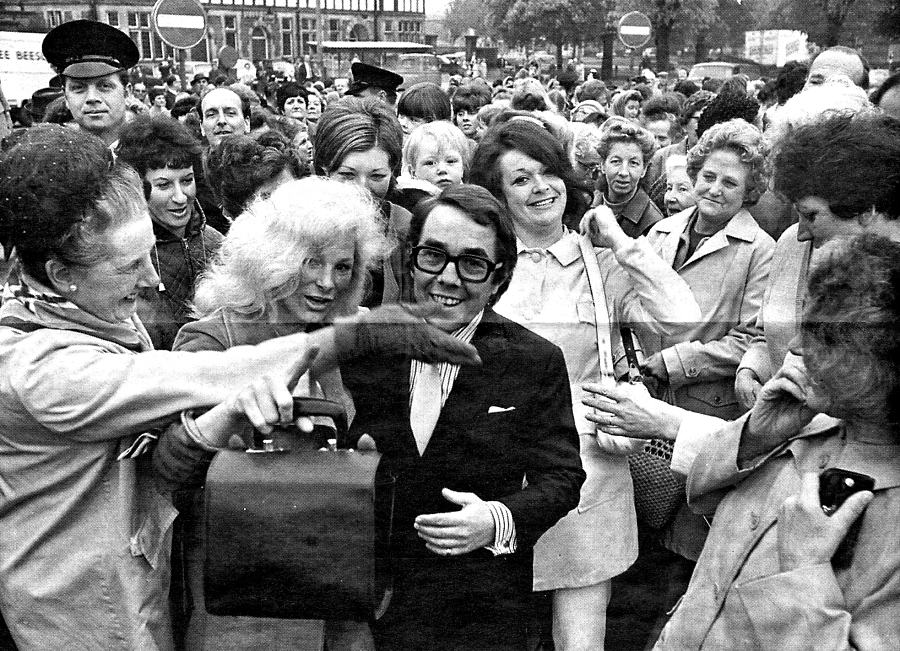 Housewives surround Ronnie Corbett as he arrives to open the One-Stop store in Binley Road today.
Pioneering Super-Shopping
By Evening Telegraph Industrial Staff

  COVENTRY'S new combined petrol station and supermarket, the One-Stop development on the Binley Road, which is claimed to be the only one of its type in the Midlands, opened today.
  The development, on the site previously occupied by Morton's Garage Ltd., has been built by the Rugby based Blue Boar Group of Companies at a cost of more than £300,000.
  Incorporated in the development are a covered self-service petrol station, a supermarket, car-wash bay, motor accessory shop and parking space for 100 cars.
  Hundreds of housewives thronged the garage forecourt and stood in long queues at the supermarket entrance today to welcome the television comedian, Ronnie Corbett, who performed the opening ceremony.
  The Blue Boar Group bought the site about 18 months ago. In the new development, they run the petrol station and car accessory shop and lease the supermarket building to a Mansfield company.

£300,000 ONE-STOP STORE

  Mr. I. J. Lampitt, managing director of the group, said that the joint operation, the only one in Coventry, was based on the American drive-in supermarket idea. "We have no plans for another development like this in Coventry," he said, "but we do have several other sites in mind in the Midlands for operating similar schemes."
  The new petrol station is opposite the existing Stoke Park Service Station, but Mr. Lampitt said: "We feel there is room for both of us. Binley Road may eventually become a dual carriageway and then there will be a greater need. Anyway, I think competition is a good thing."
  One-Stop aims to attract customers by offering a variety of services and a wide range of price reductions. During the first two weeks all grades of petrol will be 6d. a gallon cheaper and Mr. Lampitt said that their regular prices would include reductions of up to 5d. a gallon.
  An official of the supermarket said: "There is no-one in Coventry who will be able to beat us on prices."