Stoke - Some History

his is by no means a complete history of our district of Stoke, just a series of brief passages covering various aspects, which either highlight some important chapters in Stoke's past, or are simply interesting enough to warrant a mention.
(Some of the references I've used are listed at the foot of the page, and can be quickly reached by using the relevant [Footnotes] links.)

Stoke's beginnings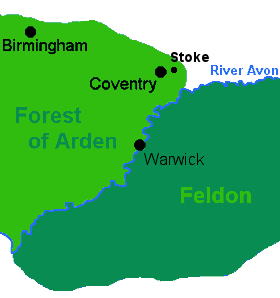 he origins of Stoke are, as with many places, unclear. It appears likely, however, to have formed as a Saxon settlement, the name apparently deriving from stoc or stocca, meaning the trunk of a tree in Anglo Saxon.[1] The word Stoke appears in many English place-names, signifying a village or hamlet, so could the "tree" reference indicate our location within the ancient Forest of Arden? The word stockade also derives from stocca, which might also be significant.

The earliest date we have is supplied by Reverend T. A Blyth, in his book The History of Stoke,[2] is 1100, which is the date given for the founding of Stoke church, mentioned in a very early parish register, which reads "Arms of the old Earl of Chester, founder of Stoke Church. A.D. 1100. Azure, 3 Wheat Sheafs, or." The earl in question was Hugh de Abrincis (1047 to 27th July 1101, also known as Hugh d'Avranches) - nephew of William the Conqueror.[3] In the Domesday book, Earl Hugh, also known as Hugh Lupus (the wolf), is noted as possessing lands in 19 counties,[2] some of which would have been previously owned by Godgifu (Godiva).
A church, of course, would not have been built had there been no populace to serve, and it appears almost certain that the original hamlet of Stoke would've grown up centred around the area known as Church End, on the south side of the church grounds where now Church Lane meets Walsgrave Road.[2]
Biggin
Stoke and Biggin are often closely associated, and in the past some confusion has arisen over this. Both were originally separate manors, but only Stoke was ever a parish, and the manor of Biggin lay within it.[2] Biggin has had several spellings from ancient times, appearing variously as Buggin, Bugging, Biggyng or Byggyng.
Although marked on many maps as Biggin Hall (Site of), the place is largely forgotten. However, in May 2022 Biggin Hall was featured in the More4 TV programme The Great British Dig: History in Your Back Garden, hosted by comedian Hugh Dennis. The monastic grange, which stood where now the appropriately named Biggin Hall Crescent runs, turned out to be larger and more prestigious than historians had previous supposed, and served the Benedictine monks of Coventry's Priory of St. Mary's.
Stoke church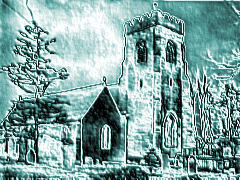 ne year after its founding in 1100, Earl Hugh died and Stoke church was passed to his successors until inherited by Ranulf de Gernon, 4th Earl of Chester (1099-1153).
During the reign of King Steven (1135-54), Earl Ranulf granted fourteen chapels to Prior Lawrence and the monks of Coventry. These were: Ansty, Binley, Bisseley, Exhall, Foleshill, Keresley, Pinley, Shilton, Spon, Stivichall, Stoke, Whitley, Whoberley and Wyken - the tithes of which would be paid to St. Michael's - at that time part of Coventry Castle.
When, in 1451, Henry VI created the County of the City of Coventry, most of the above hamlets and parishes, plus Radford and part of Sowe (Walsgrave) became part of this county, and were no longer under the jurisdiction of Warwick.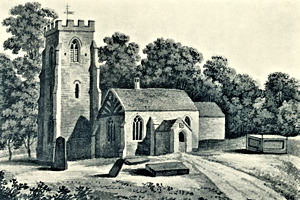 Now known widely as Stoke St. Michael's church, there is some speculation about whether or not the church was once dedicated to St. Chad. Maps before WW1 label it as St. Chad's, but Rev. Blyth in his book could find no documented evidence to support this. David McGrory, however, in his Illustrated History of Coventry's Suburbs[4], found a 1557 reference saying "The saied long medowe to a well in the high way ou' agayn' Stoke church called saynt Chadd's Well."
It appears that no part of the ancient chapel's structure survives; the oldest part now being the 14th century tower. The picture on the right is from the Victoria County History[5] and depicts the church as it looked around 1800. Several enlargements have been made to the building since then.
Associated names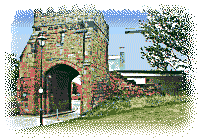 round 1200 the church register records the first person of this parish to have his name taken from his place of origin[2]. Scherus de Stoke was the son of Hugh le Harper - from a long established family in the area - and who had given to the monks at Coombe Abbey a wood, called Harper's Wood, during the reign of King John (1199-1216). Scherus in turn passed the name to his son, Thomas de Stoke.
To the big city!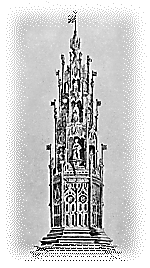 Several generations later Richard de Stoke was to achieve some fame, not only becoming five times mayor of Coventry, but becoming the mayor who laid the first stone of Coventry's City Wall in 1356, during his second tenure as mayor (the first being 1353).
Around 1471 William Hollis was born in Stoke, and went on to become Lord Mayor of London in 1539. After his death in 1542 he left in his will £200 for the building of a replacement Coventry Cross. At that time £200 would pay around seven years of wages for the average person!
The pertinent portion of William's will reads:[2]
"And furthermore I give and bequeath unto the Mayor and Aldermen of the City of Coventry, and to the Commons of the same, £CC. sterling, to the intent and purpose hereafter ensuing ; that is to say, to make a new Cross within the said city ; whereof delivered in hand to Mr. Warren, Draper, of the said city, the 24 day of August last, £XX. in ready money ; and also more paid to Mr. Over, by the hands of Salt, my Baylie of Yoxall, £70 in ready money ; and so resteth unpaid £CX. sterling, which I will and desire my executors see to be delivered and paid unto the said Mayor and Aldermen of Coventry, aforesaid, within one year after my decease," etc.
The combat that never was!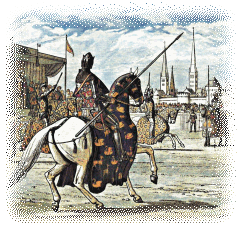 In 1398 one of the most famous events to occur at Coventry took place on Gosford Green, and had a devastatingly significant effect on the future of English and Royal history. In late 1397 Henry Bolingbroke, the Duke of Hereford and Thomas Mowbray, the Duke of Norfolk happened across each other on the route from London to Brentford. During their discussion about their revolt against the king a decade earlier, Mowbray informed Bolingbroke that there was a plot to kill Henry and his father.[6]
Bolingbroke took advantage of this, and informed the king that Mowbray had uttered treasonable words against him, challenging Mowbray to trial by combat. The king tried to appease them, but Bolingbroke stood by his word, adding further accusations, and so eventually a tournament was arranged for Gosford Green, just outside Coventry, on Monday 17th September 1398.
It was to be a grand event, with a crowd of thousands gathering on Stoke and Gosford Green, and both protagonists had new suits of armour made for the occasion. Grandstands were built, and the combat was to be presided over by King Richard II himself. The two stayed locally the night before - Thomas Mowbray at his castle at Caludon, while Bolingbroke slept at Sir William Bagot's castle at Baginton.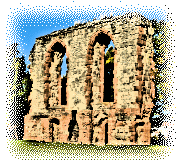 Next morning Bolingbroke and Mowbray arrived mounted on their horses, both made their oaths and declared that the fight was just, closed their visors, held their lances aloft, and prepared to charge . . . and the king ordered them to halt and be seated! For two hours everyone waited while the king and his council deliberated, before his secretary read aloud his decision. Henry Bolingbroke was ordered to leave the country and not return for ten years. His lands were also confiscated. After a plea by his father, John of Gaunt, on his behalf, however, Richard reduced his banishment to six years. Thomas Mowbray received harsher treatment. It was believed that he had uttered treasonous words and embezzled money, so he was banished from the kingdom for life. The unlawful return of either man was upon pain of death, although this was softened a little by an annual allowance of £2,000 and £1,000 respectively.
The following year John of Gaunt died, and the king took everything he'd owned and changed Henry's banishment to life, making Richard even more unpopular. Less than a year had passed since the infamous "combat" when, in June 1399, the popular Henry returned to the north of England, gathered an army 60,000 strong, captured Richard II and brought him to Coventry as a prisoner. Richard had no choice but to abdicate, so Henry Bolingbroke became King Henry IV, having a legitimate line via his father, who was a son of Edward III.
Nearby Gosford Green, King Richard Street, Mowbray Street and Bolingbroke Road are named in memory of this famous event.
Footnotes
The History of Stoke, 1897 - Rev. T. A. Blyth
The Illustrated History of Coventry's Suburbs, 2003 - David McGrory
Victoria County History of Warwickshire 1969. (VCH)
A History of Coventry, 2003 - David McGrory